FLIES TREATMENT SERVICE – PHILADELPHIA PA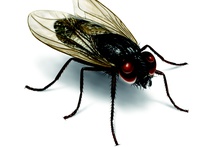 There are more than 120,000 known kinds of flies around the world. Insects that are technically considered as flies (true flies) are insects in the order of Diptera. The term Diptera literally means "Two wings" which distinguishes them from other insects. The most obvious difference that flies have compared to other insects is through the use of a pair of wings allowing it to fly. Most true flies have the word "fly" in their names. Insects like dragonflies, sawflies, fireflies, stoneflies, mayflies and the like are examples of the insects fly. Fly however, may also refer to the common household pests which commonly gather near unhygienic locations and objects and is known to be attracted to garbage cans, pet areas, and even compost heaps.
There is an estimate of more than 240,000 kinds of flies with only 120,000 known kinds. True flies are generally considered to be part of the major insect orders in terms of providing ecological, medical and economic importance.
 
ANATOMY
Flies have short and streamlined bodies which can generally be divided into two sections or "tagmas." The first part houses the head of the fly and the mouthparts. The next section is known as the thorax which carries the wings of the flies as well as the halters which is responsible in aiding the fly keep their balance when they fly.
Flies have compound eyes with three small ocelli on the top of these eyes. Since they have no tooth or any other organs that can act as instruments to cut or chew solid foods, flies consume only liquid food. They can also consume finely granular foods like pollens which they are still capable of digesting.
CHARACTERISTICS OF FLIES
House flies are the most common flies found in homes and other human dwellings. They are known as the Muscadomestica species of the diptera family. They are about ¼ of an inch in length and have a lifespan of only 15 to 25 days. They taste food using their feet which are 10 million times more sensitive as compared to a human tongue. Like all insects that belong to the diptera family, house flies do not have teeth or stinger. They have mouths that can absorb food similar to how a sponge can absorb water. They mainly consume liquid foods but can consume some solid foods by vomiting or spiting on the said food first. They have tongues that follow a straw shape form allowing them to suck up their food. Their main diet consist of any wet or decaying organic matter but is usually attracted to the waste of pets since these have strong odors which makes it easier to find for a fly. House flies tend to stay within 1-2 miles of the general area where they are born.
LIFECYCLE OF THE HOUSE FLY:
The complete lifecycle of a fly is a very quick process. It is able to complete its metamorphosis from its egg stage, to larva, pupa and finally its adult stage in an 8 day period. Most flies and species of the diptera family have the same lifespan and cycle.
DANGERS
Most houses have flies and residents usually are not all too much bothered by the presence of these pests. If left unchecked and unmaintained, they can provide more danger than expected. House flies have the potential to carry various harmful diseases which can be transmitted through food borne methods. Since flies are also attracted to food, their unsanitary habitats may allow them to carry diseases such as typhoid fever, diarrhea, tuberculosis and many more. Notable bacteria' and diseases that flies are known to transit are shigella spp., Salmonella spp, Escherichia coli and vibrio comma.