SILVERFISH CONTROL PHILADELPHIA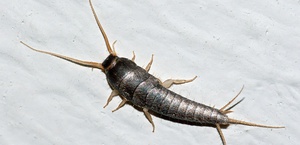 SILVERFISH IDENTIFICATION
Silverfish are wingless insects from the order of thysanura and are known as Lespisma sacchrina scientifically. They are common urban insects that prefer human habitats for survival. They can be located in many places in a home with high preferences in dark, damp and cool places with high humidity. They have carrot shaped bodies, thick at the front and narrowing towards the posterior. They have silver colored soft bodies covered with fine scales. Full grown silverfish are up to 3/4 inch long and have two long antennae and three long tail projections. They also have three tail-like appendages on the tips of their abdomens one off the end of their body, one facing light, and one facing left. Silverfish hate disturbance and they move in a fast wiggling motion that resembles the movement of a fish. Alongside their movement their silverfish color influences their name. Silverfish normally live for two to eight years. Though uncommon, they cause little damage since they are not known to spread any disease but uncontrolled infestations can cause harm to paper, starched fabrics, curtains, leather, rayon, silk, book bindings, wallpapers and the like.
SILVERFISH LIFE CYCLE
Silverfish go through love dances prior to mating. The males lay a sperm capsule known as spermatophore covered in silk thread which the female takes into her body via her ovipositor to fertilize the eggs. When a female reaches the adult stage, it can lay over 100 eggs during her life. These eggs are deposited in small groups or singly in crevices, confined places and crack where they hatch to nymphs in three weeks. The newly hatched silverfish which appear white in color develops from egg to a young adult within four to six weeks and continue molting throughout their lives. All the life stages are similar in appearance except for the size.
WHERE TO FIND SILVERFISH
Silverfish have a tendency of staying close to their food source and will stick around there until the supply is finished. Silverfish are general feeders and can consume wide range of materials. They eat foods and products high in starch, sugar, proteins which can be found in foods such as dried meat, rolled oats, cereals and flour; fabrics like cotton, silk, linen and cloths paper. They can however go for months without food. If there is an infestation they can damage many things including books, wallpapers and even clothes. They can move into buildings with moving boxes which have been stored in infested areas. Silverfish are nocturnal and will hide during the day. They can be found in steam tunnels, water boilers, heating pipes, furnace rooms, closets, bookcases, basements among other areas with temperatures above 90° F.
DAMAGE SILVERFISH CAUSE
Unlike many other household pests, silverfish are medically harmless. They do not bite or sting and are not known to cause any disease. However, an infestation can cause harm by contaminating food, damage books and stain clothes. They have similar habits to cockroaches found in dry areas.
PREVENTING SILVERFISH
Given that silverfish thrive well in dark damp environments, one of the most effective preventive measures is by dehumidifying the home. Proper sanitation is also key in eliminating them. Regular vacuuming to remove egg masses will help prevent further multiplication. Identify their food source and remove it from their access especially anything on the floors. Silverfish can be trapped using sticky traps or using jars. When a jar is used, food is put at the bottom which attracts the pests and are unable to climb out.
EXTERMINATING SILVERFISH WITH INSECTICIDES
Silverfish can be exterminated with common chemicals containing propoxur as the active ingredient. The insecticide should be sprayed behind the appliances or places where silverfish are most likely to be found.